Bio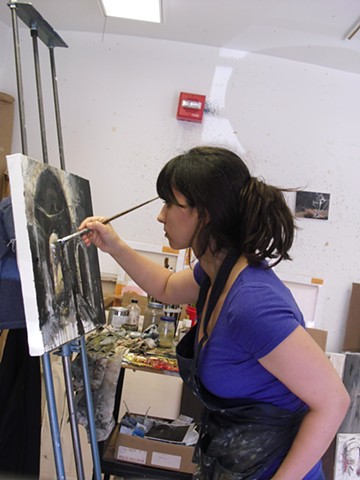 My name is Soulaf but I go by Soully (rhymes with Julie.) I was born and raised in Damascus, Syria. I received my BFA (2008) and MFA (2013) from Indiana State University.
I am a painter and a printmaker. For years, my subject matter has been about the ongoing war at home where my family still resides. I spent a summer there, during the war, and experienced the turmoil first-hand. Shortly after my return to the U.S. I lost a close family member. As a result from this loss, I was propelled to confront what I was going through. I started creating works that depicts my experiences of war; the destruction I've witnessed both personally and on the news, as well as my internal experiences of grief, loss, reckoning and healing.
I participate in national and international solo and group exhibitions. My work has received awards and grants throughout the years, and I continue to attend artist residencies and symposiums inside and outside the U.S.
I currently live and work in Indiana, my home away from home.